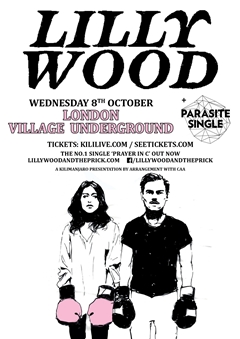 There are two ways to get what you want in life: you count on your luck and wish for the best, or you fight for what you want. This pair could have counted on their lucky star, the one that guided them to where they are today. But Nili and Ben decided to fight to achieve their dream. Two years after their magical and unexpected success,

LILLYWOOD

get back into the ring to conquer our hearts with their second album The Fight.

Their trajectory has been exemplary. Their paths crossed five years ago in Paris, in a bar, late at night. It's easy to guess what brought them together, apart from pure chance. Both in their early twenties, Nili and Ben were finding their way, floating between melancholy and lightheartedness and found music as something to hang on to. That same night, with her on the mic and him on the guitar, they spontaneously composed their first ballads made of a heady kind of folk blues, not knowing where it would lead them. Their first songs already embodied the whole universe of LILLYWOOD; an unabashed, disabused, melancholy and playful kind of pop. Their songs quickly spread on the internet, circulated by a generation, their generation, who recognized itself in them. In 2009, LILLYWOOD where an internet hit, and thanks to their song '
Down the Drain
' with its fantastically quirky video and to their clever cover of Santigold's '
L.E.S Artistes
', the duo reached the status of young promising trendy band.
In 2010, the general public discovered
Invincible Friends
, their tenderly rebellious debut album in which these two self-taught musicians explored every sound permitted by their youthful curiosity: pop melodies mixed with electro arrangements, a bluesy voice transported by folk chords. This first album resonated as the call of a generation that finds its strength in disillusion. The rest of their story is like a fairytale in which the public waved its magic wand to send LILLYWOOD to new heights: 2011 was a magical year that brought them a gold record, a sold-out tour (Olympia, Bataclan, Cigale…), the biggest festivals (Rock en Seine, Les Francofolies…) and a Victoire de la Musique as the new Revelation (voted by the public).
The story could have ended there, but the euphoria and the energy brought on by these successes soon got the duo composing again, as if to convey the story of the past three years. One thing is for sure, if the first album was the product of a spontaneous verve, this second record is that of a battle to succeed. They logically called it
The Fight
. At first, they perceived this new album as a challenge, a test of their duality that they needed to isolate and find again, expose and transcend, to find a perfect balance. The duo has retained its instinctive quality and still composes with the same candidness, but each sound, each word is more carefully selected and applied. LILLYWOOD chose to evolve surrounded by their original team (Pierre Guimard and Pierrick Devin as producers), but left the DIY atmosphere behind to give place to a more produced and precise sound. The arsenal changed, like a beat box giving place to a drum set, creating a combative, fiercely passionate atmosphere. The lyrics dig deep to reveal another battle: adulthood; when your youth slips away, torn between the carefree past and the weight of the future; the youth that brought on so many heartaches, but that you're already starting to regret.
LILLYWOOD
will play
London's The Village Underground
in
October
.