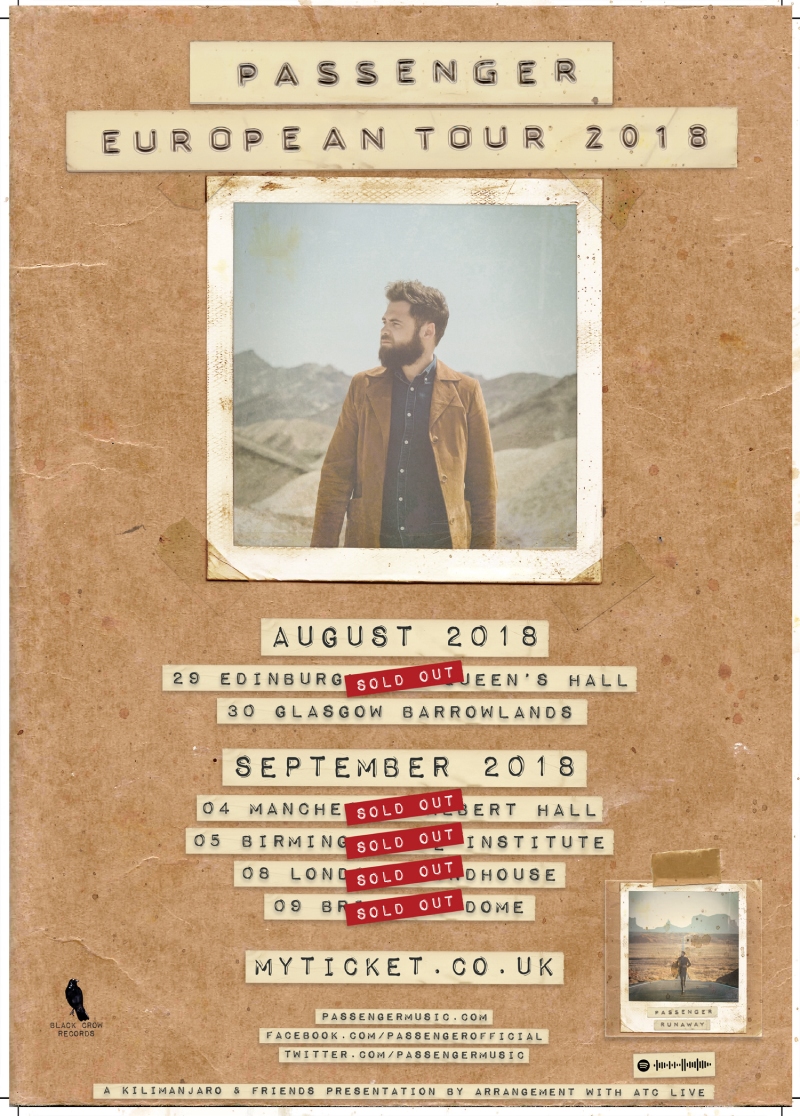 There have always been two sides to Mike Rosenberg, aka
Passenger
: the epic, radio-friendly sound represented by his international number one single, Let Her Go, and his UK number one album,
Young As The Morning
,
Old As The Sea
(2016), and the more introverted, singer-songwriter side heard, for instance, on
Whispers
II (2015) and
The Boy Who Cried Wolf
(2017).
Runaway
, the new album, finds Passenger embracing the epic once again: the melodies are unforgettable, the choruses colossal. These are songs you are going to hear on the radio.
Ticket terms and conditions below:
1) Tickets are strictly limited to 4 tickets per person.
2) The name of the lead booker will be printed on each ticket. The name cannot be changed once the booking has been made.
3) The lead booker will be asked to present photo ID that matches the name on their ticket to gain entry into the venue. Acceptable forms of photographic ID are: Passport, driving license, CitizenCard or Photocard. Tickets will not be refunded if you arrive without one of the above forms of ID.
4) Letters of authorisation will not be accepted.
5) If you are booking more than one ticket your guest must arrive at the concert at the same time as you. Failure to do so will result in the guest being turned away.
6) No readmission.
7) Tickets cannot be exchanged or refunded.
8) By continuing with your booking, you are confirming you agree to these Terms and Conditions. Failure to adhere to the terms and conditions may result in your order being cancelled. There are no exceptions to this rule.
Please note that Passenger has appointed Twickets as his official ticket resale partner. Buying or selling tickets on any other resale platform is strictly prohibited.
Twickets is a ticket marketplace that enables fans and events to trade tickets at FACE VALUE for gigs, festivals, sport, theatre & arts. Their mission is to counter secondary sites that price real fans out of attending as well as harming the event industry. Twickets fully protects its users with a guarantee against fraud and overpricing and serves to steer fans away from the exploitative secondary ticketing platforms.
Sellers sell for free, and buyers pay a standard booking fee of 10-15% of the sold for ticket price. Users must have a PayPal account to sell, and buyers can purchase with all major debit / credit cards as well as PayPal. http://passenger.twickets.co.uk/