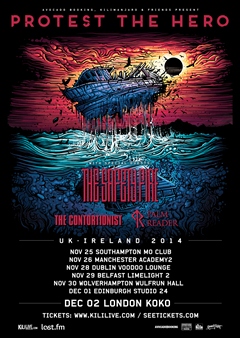 Protest The Hero
have carved an identity for themselves that is so revolutionary within heavy music that to call them "unique" would be like calling Louis C.K. "pretty funny" or the classic "Star Trek" television series "influential sci-fi." The band effortlessly balances high-minded artistry with wit and whimsy, substantive viewpoints with wanton tomfoolery and masterful musicianship with true
song craft
.
Across Protest The Hero's cinematic fourth album,
Volition
, spider-fingered arpeggios, walloping bottom heavy brutality and dynamically theatrical vocals the group have made their stock-in-trade remain unrivaled. Their storied career has earned them a Revolver Golden Gods Award, two Canadian Independent Music Awards, a Juno nomination, and millions of views online leading to a #1 debut in their home Canada. But it's the groundswell of loyal supporters who've connected with the band's spontaneity, authenticity and depth that continues to propel them forward: when they set out to crowd fund Volition, PTH met their goal in 24 hours and had more than tripled that sum when it was over.
Protest The Hero
will play
London's KOKO
and
Manchester Academy2
as part of a wider UK tour starting this November.