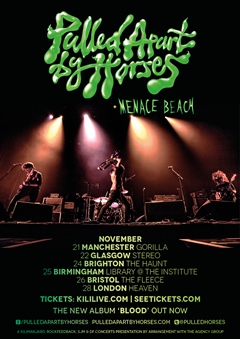 Pulled Apart By Horses
are less a gang and more one big fucked-up dysfunctional family. The Leeds quartet are a tightly-knit rock band who make music that thrills and menaces, their songs armed with suckerpunch riffs and zinging choruses. They formed in 2008 out of the ashes of various bands in Leeds. Since then they have existed in their own chaotic ecosystem, embarking on relentless tours around the world and stopping only to make 2010's punkily infectious self-titled debut and its snarling 2012 follow-up '
Tough Love
' (produced by Gill Norton - Pixies/Foo Fighters etc.) . Everything they've done has been drenched in a sense of youthful recklessness, of all or nothing ardour. With third album '
Blood
' they have taken things a step forward with wider musical and lyrical themes, embracing their love of psychedelic cinema and developing as a band whilst retaining the thrilling 'Horses' sound.
Pulled Apart By Horses' third album is called '
Blood
' because this is what they are to each other: a family where Lee is the dad ("he wins all the arguments), James the mum ("he worries and just wants to make sure everyone is ok") and Tom and Rob the errant children. It is a record about the bond between the four of them. 'Tough Love' was a reference to that kinship too, but the new record represents solidarity and strength. It's an album that will bring Britain's most exciting young rock band to a whole new audience. "We wanna prove we're a serious band," says James. "And not a serious band who've lost every bit of emotion, we're still a bunch of yappy little terriers," adds Tom. Pulled Apart By Horses can't wait for you to hear the mind-blowing new album they've made. They are itching to be released from their stable.
Pulled Apart By Horses
have confirmed details of a short November tour, which includes shows in Brighton, Birmingham, Bristol and London, among other dates.