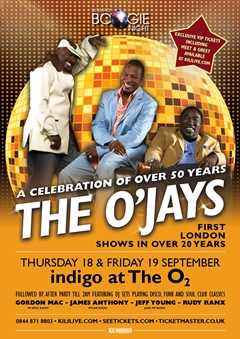 Having recently celebrated their
50th anniversary,
The O'Jays
are living legends... American treasures. The term 'living legend' is often overused and abused, but with The O'Jays, well, there's little argument that the honourable tag truly applies. With their place in modern music secure, The O'Jays could have cruise-controlled to that comfy hammock on a sandy beach, umbrella-decorated drinks in hand. After 50+ years making such international hits as '
Back Stabbers
', '
Darlin' Darlin' Baby
', '
Love Train
', '
I Love Music
', '
Use Ta Be My Girl
' and '
Have You Had Your Love Today
', The O'Jays are light years away from easing up on the gas. And like fine wine, The O'Jays just get better with time.
The O'Jays
will play
Indigo at The O2, London
on
September 18th
and
19th
.