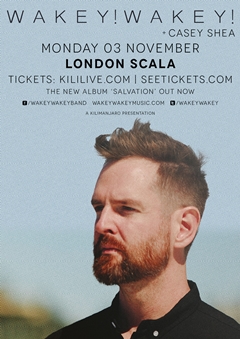 "There was a point in my childhood when I thought I was going to be a preacher,"
says Michael Grubbs, the frontman-songwriter behind Brooklyn's
Wakey!Wakey!
"I was going to have a congregation, talk to them about life, about how to get by. I guess this is kind of my pulpit now."
Ever since his single "War Sweater" jettisoned him into stardom five years ago (thanks to a game-changing plug on One Tree Hill), the indie-pop singer has built a following that's as passionate as his compositions. His fans have bought 45,000 copies of his self-released debut, the exquisitely tortured

Almost Everything I Wish I'd Said the Last Time I Saw You

. They've permanently inked his lyrics on their bodies (you can find them on display at the "W!W! Tattoos!!!" Pinterest board). And in the ultimate gesture of support, they crowd-funded his self-released follow-up album, the fittingly titled

Salvation

—and even exceeded the goal by 141 percent. Meanwhile, Salvation's first single, the bright, palpitating "
Wake Up (Lily, I Love You…)
," is already off to an auspicious start, amassing global grass roots traction.
In May 2009, in an act of seeming divine intervention, the creator of One Tree Hill discovered

Wakey!Wakey!

through a friend. He placed
"War Sweater"
on a season 6 episode of the show and cast Grubbs in a small role as a bartender. Overnight, everything came back together. "
Literally a day after 'War Sweater' debuted on One Tree Hill, it was No. 13 on the iTunes chart,"
marvels Grubbs. "
Being an artist feels like you're in a marathon. You see what you think is the end, but you realize it's the starting line. You run, and you run, and you run. I was so beaten down. But…here I am!"
Following a sold out performance at Madame Jojo's in July,

Wakey!Wakey!

will play

Scala

in London on

November 3rd

.