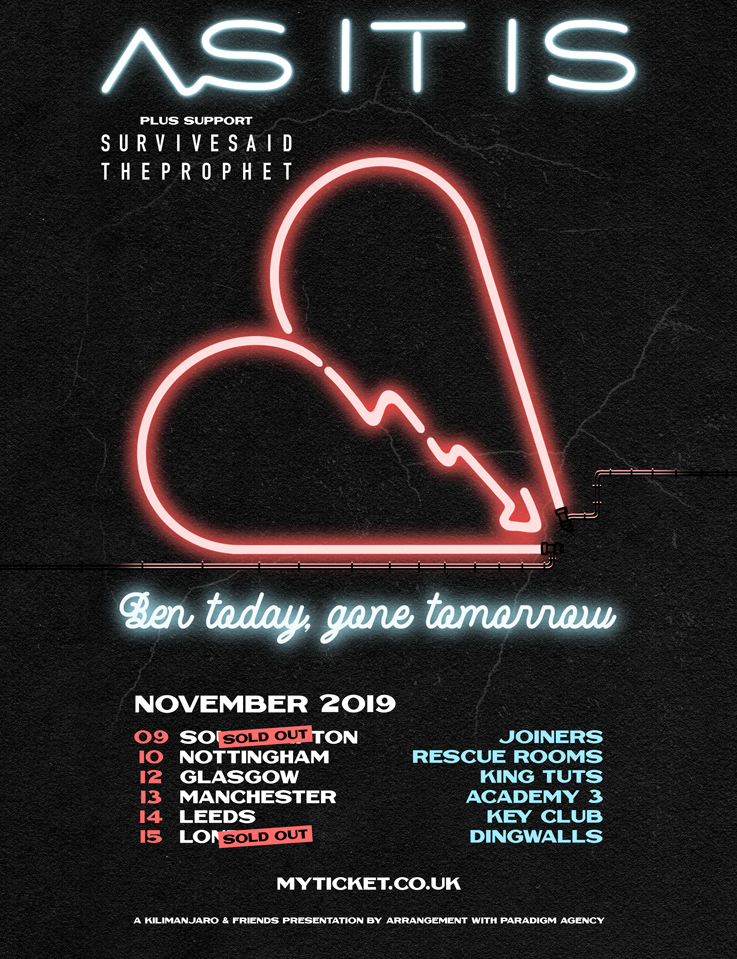 After 18 months of global touring in support of their acclaimed third album
The Great Depression
, As It Is will play a final set of 2019 dates in November, concluding the album cycle in the UK & mainland Europe.
As well as concluding
The Great Depression cycle
, the tour dates will also bid bittersweet farewell to stalwart guitarist Ben Langford-Biss, who has issued the following open letter regarding his departure:
"Dear friends & fans; I have made the difficult decision to step away from As It Is. Before anything else I would like to thank the other four boys in their support & understanding of my decision. They are still my brothers, best friends & I will cherish always the memories we made together.
I am incredibly grateful & proud of everything we have achieved & created together, and for everything you, the fans, have allowed us, however it is time for me to pursue other paths & projects in my life. Three albums and years of relentless touring takes its toll & has brought me & those closest to me to breaking point a number of times. This was by no means an easy decision to make having dedicated my life into it for almost 8 years, but as the years have gone by my own ability & passion to live the life that comes with the music has waned.
I will be doing one last tour in November with the boys in the kind of venues we cut our teeth in to say goodbye properly & have one last week or so playing music with my best friends. I am excited to see what As It Is do next & will be constantly supporting from the side-lines (hell, maybe they'll still let me guest when I undoubtedly ask for a guest list spot to a show). I will most likely post a longer more candid, written piece at some point but for now, thanks for the memories, see you in November. BLB"
As It Is
Nottingham

The Rescue Rooms

Manchester

Manchester Academy 3