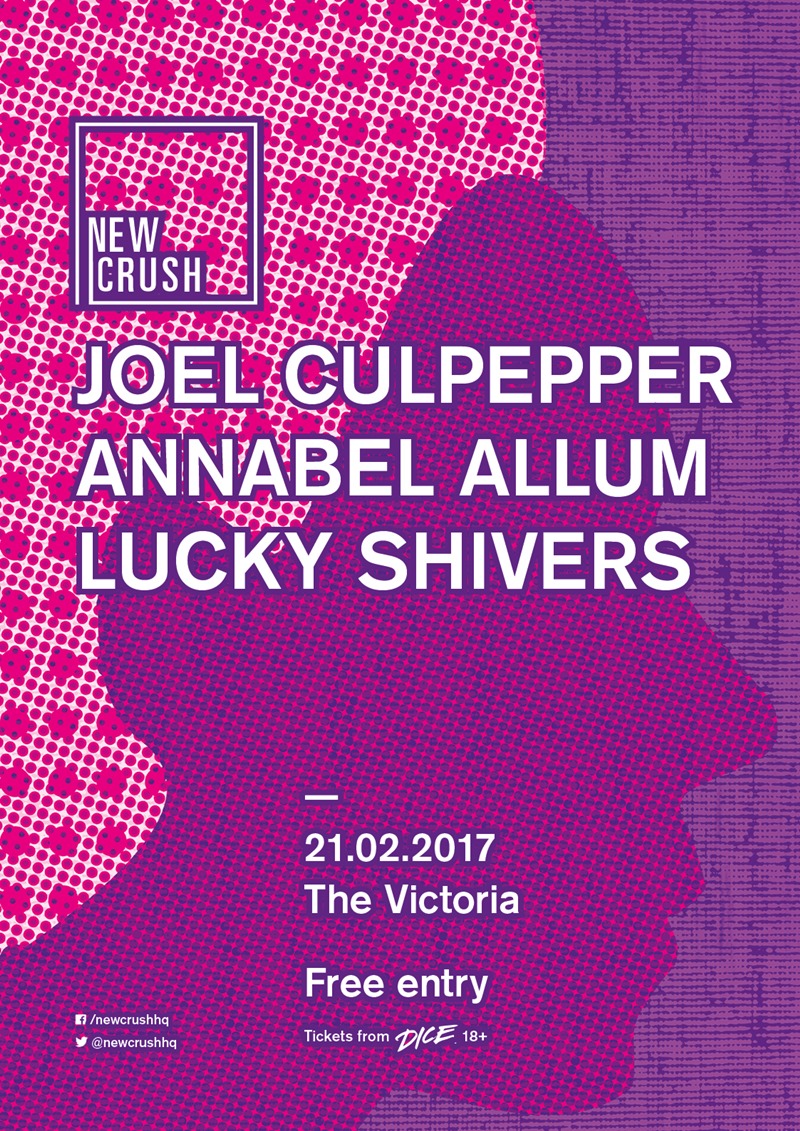 New Crush brings you the finest new music, live and free in London.



Joel Culpepper


South East London based

Joel Culpepper

(Pronounced KUHL-PEPPER) is among a fresh crop of emerging acts breaking the mold. With a distinctive style inspired by British fashion and modern culture, Joel has been described as '
the UK's answer to Andre 3000 and Frank Ocean
'.
Annabel Allum
After years of relentlessly playing live,
Annabel Allum
released her debut EP, '
Absent
' in August 2015. With early support from John Kennedy, The Line Of Best Fit & Gold Flake Paint word spread quickly about Annabel. With acoustic demos synced to the upcoming feature film Spaceship (BFI, BBC, SXSW) and acting in the movie itself, it is clear that the artistic value of Annabel Allum is not limited to just one medium. Her original look and self-styling has also gained Annabel a lot of attention on social media, with an ever growing Instagram following she has received endorsements from Bastian Classics, Cheap Monday & various indie clothing brands for her to represent online.

Welshly Arms WELSHLY ARMS
combines their love of blues with rhythm and soul & good ol' rock and roll, to create a fresh throwback sound that represents their Midwestern roots. Comprised of Sam Getz (guitar/vocals), Brett Lindemann (keys), Jimmy Weaver (bass), Mikey Gould (drums) and Bri and Jon Bryant (bgv's), Cleveland-based WELSHLY ARMS pays homage to many of their collective musical influences such as Jimi Hendrix, The Temptations, Otis Redding, and Howlin Wolf.
New Crush
+ Joel Culpepper + Annabel Allum + Lucky Shivers

London

Hoxton Square Bar & Kitchen