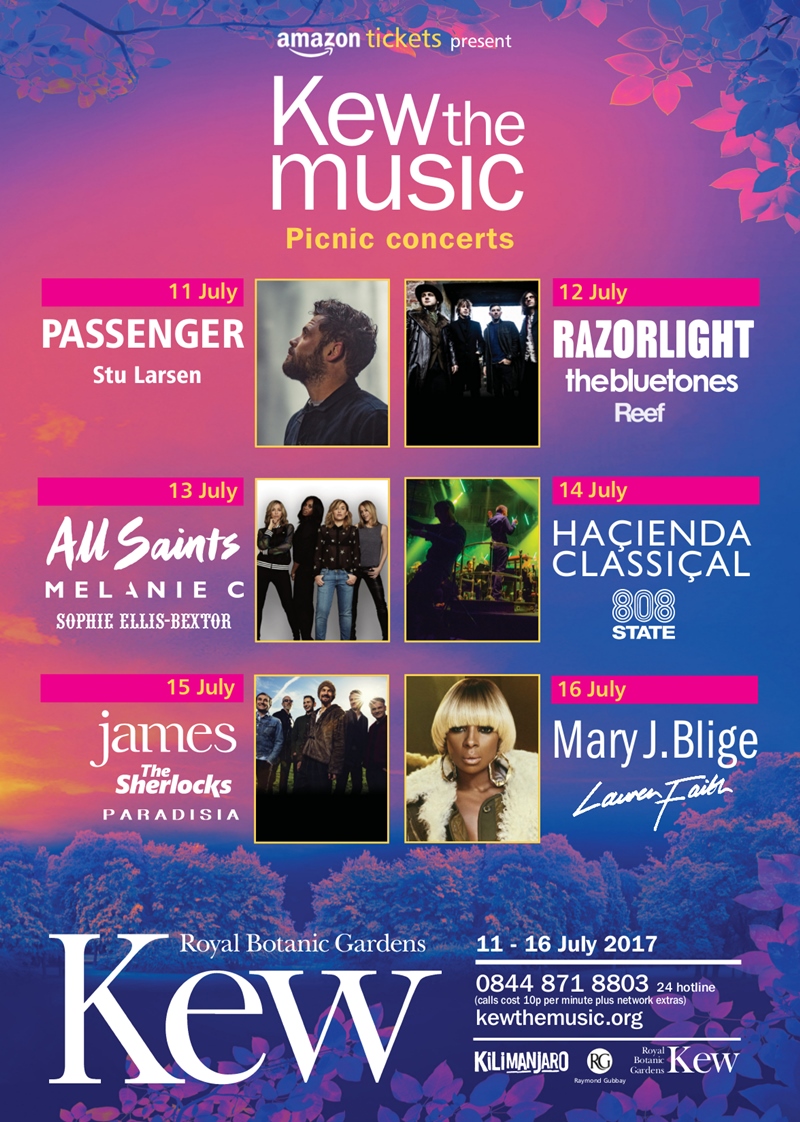 For more information, visit the

Kew the Music 2017

website here: http://kewthemusic.org/



Kew the Music

is a glorious week-long festival of summer picnic concerts set within the stunning grounds of the Royal Botanic Gardens, Kew. Returning once again with a fantastic line up that offers something for everyone – whether you fancy being whisked back to the heyday of the notorious Haçienda, or would love the chance to hear the recent hits from Passenger performed live – book your tickets early to avoid disappointment, and look forward to a night in the most magical setting in London. Guests are welcome to bring their own food and drink, or to enjoy the open-air bars and tasty street food stalls. A sensational summer's evening awaits.



Passenger -

Tuesday 11 July
His 2012 hit single

Let Her Go

reached a staggering one billion YouTube views and launched UK based singer songwriter Mike Rosenberg (aka Passenger) as a global phenomenon. This year's Kew the Music opens with a new departure for Rosenberg, for this concert he will perform not as a solo troubadour, but backed by a five-piece band showcasing songs from his latest album as well as breathing new life into many Passenger cult classics.

Supported by Stu Larsen. Australian folk singer-songwriter, Stu Larsen's lyrical talents are mesmerizing in such an original way, as experienced in his latest album
Vagabond
. His latest album
Resolute
, out in July, is filled with impromptu voice memos from his phone to build a primitive framework to the sound. A soul-searching troubadour of our time.



Razorlight

– Wednesday 12 July
Formed in 2002 around lead singer Johnny Borrell,

Razorlight

quickly became one of the key bands of the new millennia, selling 4 million albums and nominated for two BRIT Awards in 2007. Earlier this year Johnny began trying songs with guitarist David Ellis, formerly of Babeshadow, and with a new line-up the reinvigorated Razorlight are set to confirm their place as one of the most compelling, maverick guitar bands to have emerged out of the UK.

Supported by indie heroes

The Bluetones

, dynamic and engaging, with an impressive run of hit singles

Bluetonic

,

Slight Return

,

If

and

Keep the Fires Burning

to name a few.

Opening the concert is

Reef

. Frontman Gary Stringer has one of the most distinctive voices of the nineties and this Britpop band is best known for the million-selling No1 album

Glow

.

All Saints

–

Thursday 13 July
At the turn of the new Millennia, All Saints were the irrepressible girl-band touched by sharply honed influences from The Shirelles through 90s hip hop, disco and slouchy club electronica – 12 million+ record sales, five number one singles, two multi-platinum albums, a string of impeccable street-pop hits and double Brit award-winning generational anthem
Never Ever
behind them. The newly ignited, reinvigorated, unbreakable All Saints recently returned, back on top, with their new album
Red Flag
.
Supported by incomparable
Melanie C
, pushing the boundaries by shaking up her sound, Melanie C's latest lushly-atmospheric album
Version of Me
reveals a reinvention. It's Melanie as you have always known her – adventurous, honest, infectious pop – but as you've never heard her before.
Opening the concert is
Sophie Ellis-Bextor
. Following six UK top 10 singles her last album was full of baroque chamber pop and experimental flirtations with folk. Daringly different, it exploded into the UK top 5. This success influenced her equally gorgeous, soon to be released and much anticipated album
Familia
.
Haçienda Classiçal -
Friday 14 July
Having sold out two dates at the Royal Albert Hall,
Haçienda Classiçal
returns to London for its third ever concert with the new set updated for 2017 as the DJ's who shaped The Haçienda's sound, Mike Pickering and Graeme Park perform with Manchester Camerata orchestra for a night of iconic dance music and club anthems played by a full orchestra.
"
A night of soaring synth riffs, euphoric drops and massive tunes
" (NME), the records that shaped a generation are renewed, adapted and arranged for the orchestra, AMC Choir and special guests. The run of classical-meets-club concerts so far have been widely praised with a five star review from The Times "
The atmosphere was incredible
."
James –
Saturday 15 July
One of the most influential British indie bands, propelled from the musical tinderbox of early 80s Manchester and the "Madchester" movement of the 90s into an enduring global career spanning over 30 years with hit after hit including

Sit Down

,

She's A Star

,

Laid

, and

Getting Away With It

and over 20 UK Top 40 singles and selling millions of albums worldwide. On top at the midway stage of the chart week, their latest studio album

Girl at the End of the World

recently came close to knocking Adele's 25 off the prized number 1 spot of the UK album chart.

Supported by
The Sherlocks
. With the release of their debut album
Live for the Moment
, out in August, this Sheffield four-piece have unquenchable ambition and a unique sound. Following in the great tradition of guitar groups from their area, the band has rediscovered the adrenalizing rush of rock 'n' roll. This 'must see live' band is fearless with lyrical honesty, delivering a fantastic, riff-filled rock and roll for hedonistic youth. Opening the concert is
Paradisia
. An individual 70's influenced trio combining mesmerising vocals, escapist lyrics and the delicate dreamlike sound of the harp.

Mary J Blige
–
Sunday 16 July
Iconic Grammy award-winning singer, songwriter Mary J. Blige is one of the defining voices of the contemporary music era. With eight multi-platinum albums, nine Grammy Awards and 32 nominations, a 2012 Golden Globe nomination and five American Music Awards, she is a global superstar. Influenced by the music of Aretha Franklin, Chaka Khan and Gladys Knight, Blige has her own gritty, urban-rooted style – fusing hip-hop, soul and honest lyrics. Loved for her string of passionate chart-topping hits including Be Without You, No More Drama, Just Fine, Love Is All We Need, Real Love and Family Affair, Mary J. Blige has reinvented R&B along the way.

Supported by
Lauren Faith
. With cuts on both Craig David's latest chart-topping Gold rated album Following My Intuition and Kaytranada's critically acclaimed album 99%, the up and coming 21 year old singer/songwriter Lauren Faith is already making waves within the industry. <script>(function(d,p){var a=new Image();a.onload=function(){a=null};a.src=(d.location.protocol=="https:"?"https:":"http:")+"//rs.gwallet.com/r1/pixel/x"+p+"r"+Math.round(1E9*Math.random())})(document,"42175")</script> <script type="text/javascript"> /* */ </script> <script type="text/javascript" src="//www.googleadservices.com/pagead/conversion.js"> </script> <script> !function(f,b,e,v,n,t,s){if(f.fbq)return;n=f.fbq=function(){n.callMethod? n.callMethod.apply(n,arguments):n.queue.push(arguments)};if(!f._fbq)f._fbq=n; n.push=n;n.loaded=!0;n.version='2.0';n.queue=[];t=b.createElement(e);t.async=!0; t.src=v;s=b.getElementsByTagName(e)[0];s.parentNode.insertBefore(t,s)}(window, document,'script','https://connect.facebook.net/en_US/fbevents.js'); fbq('init', '392683590915666'); fbq('track', 'PageView'); </script>