Vans Warped Tour UK Presented By Monster Energy are excited to announce the remaining artists set to play this years Warped Tour UK at Alexandra Palace on October 18th. Joining the already awesome line up are: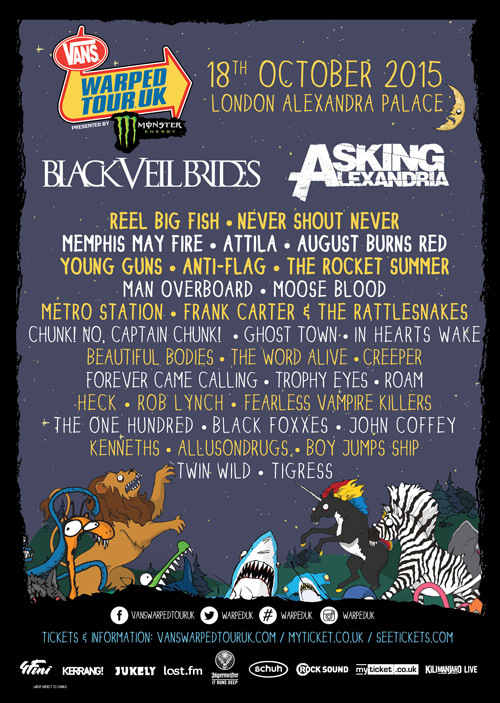 All bands (aside from Heck and Black Foxxes) were on this years Vans Warped Tour in the US and we are thrilled they will be joining us for Warped Tour UK.
Ahead of this autumn's most exciting live event, Vans Warped Tour UK Presented by Monster Energy are hosting the party of all parties. This invite only event will take place at the awesome Brooklyn Bowl at the O2 on September 14th.
To help us celebrate, Roam and Tigress and some special guests (to be announced the night before) will be putting on one hell of a live show. There will be DJ sets ( Kerrang! radio's Alex Baker and other special guests) dance offs, a whole bunch of bowling and some incredible fried chicken!
Tickets will only be available to competition winners and invited guests. Head to www.vanswarpedtouruk.com for more details on how to win tickets to the party of the year!


*Party entry is 14+ - under 16's must be accompanied by an adult.
VANS WARPED TOUR UK PRESENTED BY MONSTER ENERGY - which makes its welcome return to London's historic Alexandra Palace on 18th October - will be the ONLY remaining European show for Black Veil Brides in 2015.. Joining them as co-headliners are Asking Alexandria. Ben Bruce, guitarist for Asking Alexandria: "We cannot wait to play Warped this October. We are going to bring the biggest and best live show of our career!"
Sticking to Warped Tour tradition, stage times will only be announced on the morning of the show. Get there early! Tickets are available now from http://www.vanswarpedtouruk.com / www.seetickets.com
This years VANS WARPED TOUR UK PRESENTED BY MONSTER ENERGY sees an additional stage added to the West Hall alongside returning sponsor Jägermeister . In the same way The Monster Energy East and West main stages have in previous years, Jukely and Jägermeister stages will alternate to give non-stop music and MORE bands in Ally Pally's West Hall.
VANS WARPED TOUR US once again had a successful run. The shows, which hit both coasts of the US and into Canada, featured bands such as Pierce The Veil, PVRIS, Attila, We Came As Romans, The Amity Affliction, Transit, Beartooth, Memphis May Fire, Black Veil Brides, August Burns Red, Mallory Knox, blessthefall, Mooseblood, Riff Raff, Neck Deep, As It Is, Night Riots,This Wild Life, Set It Off, Crossfaith, Family Force Five, Metro Station, Never Shout Never, Mod Sun, Silverstein, Hands Like Houses, Motion City Soundtrack, Juliet Simms, Citizen, Man Overboard, Icon For Hire, The Wonder Years, Miss May I and many more!
Be sure to check out the amazing new book "Misfit Summer Camp: 20 Years on the road with the Vans Warped Tour" which contains 200 explosive pages chronicling the first two decades of the travelling circus that is the Vans Warped Tour. Designed by tour founder Kevin Lyman and longtime friend of Warped, Howie Abrams - this book is loaded with exclusive interviews with the likes of Bad Religion, Blink 182, No Doubt, Coheed and Cambria, Echosmith, Paramore, Bowling For Soup, Reel Big Fish, 3OH!3, Hawthorne Heights, Killswitch Engage, The Wonder Years, Falling In Reverse and many, many more. Plus dozens of never-before-seen photographs from Warped Tour's rich history by rock photographer Lisa Johnson. A must-have book for anyone who has ever attended the Vans Warped Tour!
The event takes place at "Ally Pally" which was last transformed into a seething mass of punk-fuelled energy in 2013 as the VANS WARPED TOUR rolled into town. The best of punk and metal, with the likes of Rise Against, Parkway Drive and Enter Shikari performing for over 15,000 enthusiastic fans.
Warped Tour founder Kevin Lyman: "Due to popular demand and the ability to put together a stellar line-up, we look forward to bring the Vans Warped Tour back to the UK"
Not only was the 2013 line up one of the most impressive festival bills - seeing incredible performances from Neck Deep, Yellowcard, Hacktivist and a secret acoustic performance by A Day To Remember - In addition, the VANS WARPED TOUR also ran an initiative which saw the donation of hundreds of food tins and cash donations after fans were invited to support the Islington Foodbank and the Trussell Trust to help those in need in the local community. A huge amount of money was also raised for Teenage Cancer Trust via guest list donations and their booth, which saw the likes of While She Sleeps and Crossfaith stop by to meet fans and support the charity.
Since 1995, The Vans Warped Tour has been a staple of the Summer Festival circuit in the USA. If you were to read the HUGE list of talented artists who have performed over the last 20 years it reads as the "Who's Who" guide to the best rock, metal, pop punk and hip hop. Everyone from Eminem to Katy Perry - NOFX to Less Than Jake.